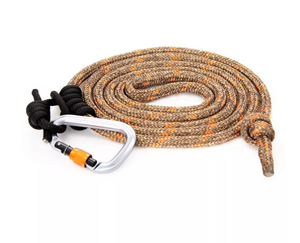 8mm or 11mm Tree Tether
When saddle hunting, you'll profit from the 360 degrees mobility. With the Tree Tether you can easily manuever for at shot when hanging in your saddle while staying safe. 
Includes 8 mm or 11 mm rope with one 5″ factory-spliced eye, 1 ultra lite carabiner, and prusik cord.
Strength: 5,000 lbs (11mm rope)
Size: 1,27 x 20 cm double braid (11mm rope)
Loop: 12,7 cm Factory-spliced/sewn
Color: Timber Brown/Orange