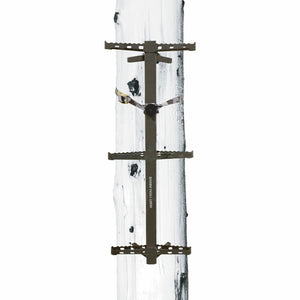 Featuring traction ANGLED steps for increased foot contact and security and measuring 81 cm in length, the Ranger Traction is a great value in a premium climbing stick. Each section weighs 2 Kg and is attached with exclusive over-molded tree strap hooks for fast, silent deployment. The Traction step grip with raised ends keep wet, muddy boots from slipping and the oval tubing rail offers ergonomic hand-grabbing security. 
All Hawk sticks are tested to TMA standards.
DUAL ROW ANGLED TREE STEPS 
Provides Extra Boot Clearance for More Boot to Step Contact
DOUBLE SIDED TRACTION STEPS 
Non-Slip Traction Grabbing Performance with Raised Ends
SILENT-USE TREE ATTACHMENT HOOKS 
Prevent Noise When Packing and Installing
MUD FINISH™ CAMO
Textured mud paint finish is applied on top of the premium powder coating to help break-up the product outline.   
Heavy-Duty steel, no moving parts

Textured UV Protect Powder Coating for Long-Lasting Use
Stick Weight: 2 Kg
Stick Length: 81 cm
Stick Width: 30 cm
Construction: Steel
Weight Rating: 136 Kg